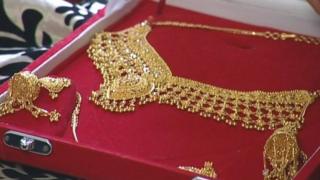 A car was deliberately driven at a police officer during an investigation into Asian jewellery thefts.
Police are treating the incident in Bellshill, North Lanarkshire, as attempted murder.
Six people have been arrested following a spate of housebreakings in which hundreds of thousands of pounds worth of jewellery was stolen.
The thefts in the Glasgow area included an attack on the home of an elderly couple while they were on holiday.
An 18-year-old man and three women aged between 17 and 21 have been arrested.
Two boys aged 14 and 15 have also been arrested and detained in police custody.
More than £600,000 worth of Asian jewellery and cash have been stolen from homes in the Greater Glasgow police division area since July last year.