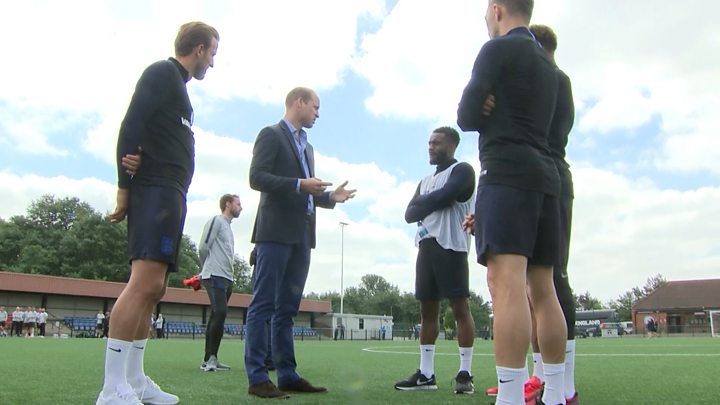 Prince William has praised the England international Danny Rose for openly discussing his depression.
The Tottenham Hotspur left-back's diagnosis came after a lengthy injury and a death in the family.
The Duke of Cambridge said to Rose: "It's really good what you did, it's really brave of you."
Prince William, who is also president of the FA, was visiting the England squad ahead of their friendly against Costa Rica at Elland Road in Leeds.
Speaking at West Rising County Football Association, he told England manager Gareth Southgate there were "early discussions about doing something next year around mental health".
England defender Rose 'had depression'
Earlier in an interview Rose, 27, said: "It's no secret that I've been through a testing time at Tottenham this season."
Rose said the treatment of a knee injury sustained in January 2017 – which saw him sidelined for eight months – was the start of a period of personal turmoil.
As well as a long injury spell Rose's uncle took his own life. In the interview he added that his mother was subjected to racist abuse in Doncaster, and a gun was fired at his house.
"It led to me seeing a psychologist and I was diagnosed with depression, which nobody knows about."
Rose said that he had not told his parents about his mental health issues, before speaking about his depression to reporters.
The 27-year-old Tottenham and England star added: "It was really hard, and being referred to a doctor and psychologist by the Spurs club doctor helped me massively to cope.
"England has been my salvation and I can't thank the manager and the medical staff enough."
Mental health charity Mind said it was working with the Professional Footballers' Association to manage mental health issues.
Chief executive Paul Farmer said "people from the world of sport have already made a difference by speaking out".
"It is therefore vital that footballers receive support from the sports sector to tackle the broader stigma around mental health in sport," he added.
If you think you may be struggling with mental health issues, guidance on how to seek help is available from the NHS website.
The contact details of charities who also offer assistance to people in need are available on the BBC website.