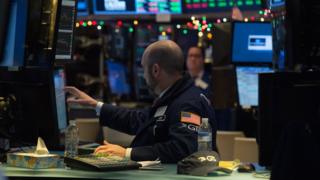 US stock markets opened at new highs on Thursday, with the blue chip Dow Jones Industrial Average crossing 25,000.
The gains extended an eye-popping run for Wall Street, which has surged over the last 12 months amid growth in the US and global economies.
On Thursday, markets got another boost after the ADP National Employment report estimated that employers added 250,000 jobs in December.
The US is due to release official job figures on Friday.
In early trade the Dow Jones increased 146 points or 0.59% to 25,070.86.
The wider S&P 500 index climbed 12.8 points or 0.48% to 2,726 and the Nasdaq was up 17.7 points or 0.25% to 7,083.2.
Financial companies were among the winners on Thursday morning, while real estate and telecommunications stocks were lower.