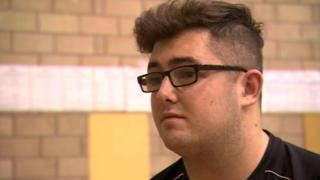 A trampoline coach was caught sexually abusing a boy in his car by a farmer who believed he was witnessing a suicide attempt, it has emerged.
On Monday, Louis Murray, 22, was jailed for 11 years for a string of sex offences.
George Common, 59, has been praised by police after he caught Murray assaulting a teenager in Belsay, Northumberland, in October.
The former said he mistook the "steamed-up car" for a suicide attempt.
Newcastle Crown Court heard Murray, from Blakelaw in Newcastle, taught hundreds of children at his trampoline club in the city, which is where he met his teenage victim.
He was jailed at Newcastle Crown Court after pleading guilty to eight charges, including engaging in sexual activity with a child.
Mr Common, whose family have farmed in Northumberland for more than 800 years, was checking livestock in the remote village when he noticed the steamed-up car in a lay-by.
'Naked lad'
When he intervened he found Murray engaging in sexual activity with the youngster.
"I have come across a suicide attempt before and I hoped they weren't trying to do something like that," Mr Common said.
"I looked in the window and saw Murray sitting next to a naked lad who just looked up at me.
"I opened the door and attempted to grab the arm of the lad. That is when Murray drove off and rammed my car."
Mr Common said he was "typical of a Northumberland farmer who was just looking after his patch".
Supt Andy Huddleston, from Northumbria Police, said: "If it wasn't for the actions of George that day then Murray's victim may have been subjected to abuse for a much longer period.
"It was a brave act that has undoubtedly helped prevent a young person from being harmed further."