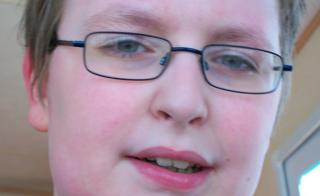 The emaciated body of an 18-year-old man was in such a poor state that some of his bones were exposed, a pathologist has told a court.
Jordan Burling died after going into cardiac arrest in the lounge of his home in Farnley, Leeds, in June 2016.
Leeds Crown Court heard his post-mortem examination found "obvious signs of malnutrition" and he had several bed sores from his head down to his toes.
His mother, grandmother and sister deny manslaughter.
Read more stories in West Yorkshire
Leeds Crown Court heard evidence from Home Office pathologist Dr Kirsten Hope, who carried out Mr Burling's post-mortem examination on 1 July, the day after his death.
The jury was given a warning they would be shown a set of images displaying Mr Burling's body as part of the evidence.
Dr Hope said his weight was recorded as 5st 11lb (37kg) and height 165cm (5ft 5ins), with his body "generally emaciated" with "marked muscle wasting".
"You can see the chest bone and the ribs protruding through the skin," she told the jury.
Jordan's mother Dawn Cranston, 45, grandmother Denise Cranston, 70, and his sister Abigail Burling, 25, all deny killing him.
They also deny an alternative count of causing or allowing the death of a vulnerable adult.
The examination found multiple "full thickness pressure ulcers", meaning the tissue damage was to such an extent they had exposed bones in his pelvis and hips.
Bed sores of varying sizes were found in areas of his body including on his big toe, behind his left ear, on his lower back and on his buttocks.
The condition of his lungs and chest were consistent with infection and showed signs of tuberculosis, although this was later ruled out.
A neuropathologist assessed his brain and spine, with both found to be normal.
The cause of his death was "acute bronchopneumonia", which is likely to have been caused by his malnutrition, his immobility and his infected sores, the court heard.
On Tuesday, the court heard Denise and Dawn Cranston had attempted to provide treatment for the bed sores by washing them with salt water and covering them with sanitary towels.
The trial continues.