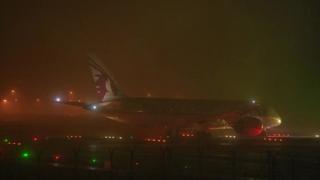 All flights were temporarily suspended at Manchester Airport due to heavy fog and a "minor defect" on a runway.
"Essential repairs" were being made to Runway One while weather conditions meant flights were "unable to make use of Runway Two", a spokeswoman said.
It resulted in the cancellation of a number of flights and departure delays of more than five hours.
Runway One was reopened shortly after 17:00 GMT but there were still some delays due to the backlog.
The spokeswoman said passengers "should check the status of their flights with their airline" but added it hoped "to have passengers on their way with minimal delays".