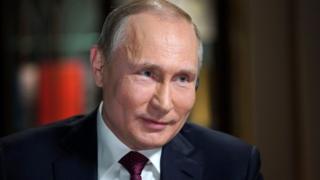 Russia's President Putin ordered the shooting down of a passenger plane that was reportedly carrying a bomb and targeting the opening of the 2014 Sochi Winter Olympics, he says in a new film.
In the two-hour film, posted online, Mr Putin says he was told a plane from Ukraine to Turkey had been hijacked as the Games were about to start.
It was later found to be a false alarm and no action was taken, Mr Putin says.
The film comes ahead of an election he is expected to win on 18 March.
Mr Putin faces seven challengers but none are expected to attract widespread support and the most prominent opposition leader, Alexei Navalny, has been barred from standing.
"I was told: a plane en route from Ukraine to Istanbul was seized, captors demand landing in Sochi," Mr Putin says in the film, Reuters reported.
The pilots of a Turkish Pegasus Airlines Boeing 737-800, flying from Kharkiv to Istanbul with 110 people on board, said a passenger had a bomb and had told them to divert the plane to Sochi, reporter Andrey Kondrashov says.
In the film, Mr Putin says security officials told him that the emergency procedure in such a situation was to down the plane.
"I told them: act according to the plan," Mr Putin says.
Minutes later he received another call informing him that it was a false alarm, he says.
He arrived at the Olympic venue in Sochi with Olympic officials shortly afterwards, he says.
Kremlin spokesman Dmitry Peskov has confirmed Mr Putin's account, Reuters reported.
The first part of the documentary, entitled Putin, has been posted on social media accounts, including one belonging to key state media manager and commentator Dmitry Kiselyov, and a pro-Kremlin YouTube account.
What else does Mr Putin say?
In the film, Mr Putin says that he may forgive some things, "but not everything".
When asked by Mr Kondrashov – a top state TV presenter and currently Mr Putin's press secretary – to clarify what cannot be forgiven, the Russian leader says: "Betrayal."
Vladimir Putin: Russia's action man president
However, Mr Putin says he has not yet had to deal with "serious events that can be called betrayal".
"Maybe I have chosen people who are not capable of doing such a thing," he says.
Putin's grandfather 'cooked for Stalin'
The Russian president's paternal grandfather worked as a chef for the former leaders Vladimir Lenin and Joseph Stalin, Mr Putin says.
Spiridon Putin was a highly regarded member of Stalin's staff, Mr Putin says.
"[He] was a cook at Lenin's and later at Stalin's, at one of the dachas in the Moscow area," Mr Putin says, Reuters reported.
Spiridon Putin continued to cook for the Soviet establishment until not long before his death in 1965 at the age of 86, the film says.