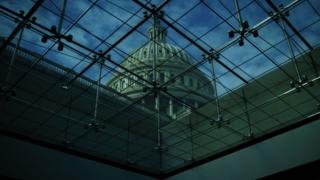 US President Donald Trump has unveiled his plan for a revamp of what he's called "crumbling" US infrastructure.
Mr Trump wants Congress to authorise $200bn (£144bn) over a decade to spend on roads, highways, ports and airports.
The president hopes the US states and private sector will stimulate another $1.3tn in improvements.
The plan was a key campaign promise by Mr Trump. But for it to work, analysts say many Americans could face higher local taxes fees and tolls.
Mr Trump tweeted that it was time for the US to invest in itself after "stupidly spending seven trillion dollars in the Middle East".
What's in the infrastructure blueprint?
The plan calls for $50bn of public funding dedicated to modernising infrastructure in rural areas, many of which voted for Mr Trump in the 2016 elections.
The proposal includes $100bn for an incentives programme "to spur additional dedicated funds from States, localities, and the private sector".
The administration also seeks $20bn in loans and bonds to finance projects including transportation and water.
The blueprint allows states to add or increase tolls on inter-state highways, and to charge fees to use highway rest areas.
However, it bans states from charging for "essential services such as water or access to restrooms".
The plan also seeks to reduce the time required to obtain environmental permits.
A legislative bridge to nowhere?
Analysis by Anthony Zurcher, BBC News, Washington
If there's one thing politicians love, it's infrastructure spending. It creates jobs, pleases businesses and gives officeholders something tangible to point to when constituents ask what they've done for them lately. So it's quite a remarkable achievement for the Trump administration to have come up with an infrastructure plan that will likely be of limited popularity and difficult to pass in Congress.
The main problem for the White House is that the proposal allocates no new funds for bridges, railways, roads and tunnels. Instead, it recommends taking money out of other government programmes – although it leaves to Congress the unenviable task of determining what gets the axe.
In addition, the plan leans heavily on states and localities to pick up the tab for the projects. Their budgets are always tight, and recent cuts to federal deductions for state and local taxes will make it harder to raise revenue.
Then there's the private funding component of the proposal. While it seems attractive in theory, tolls and fees that line corporate pockets have long been unpopular with Americans.
This doesn't mean an infrastructure bill won't happen. Chances are, however, what Congress passes will look very different from what was presented on Monday.
What's the response?
The plan is likely to face widespread opposition.
On the right, conservative deficit hawks are expected to baulk at the spending proposal.
On the left, the plan does not offer as much new federal funding as Democrats seek. They have advocated public infrastructure investment of five times the amount just proposed by Mr Trump.
Some critics say the administration's plan is a bid to privatise the nation's infrastructure, shifting the cost burden on to states, which would in turn pass it on to citizens.
Environmentalists say the proposal to streamline the review process for permits would increase risks to vulnerable wildlife.
"It's a scam to line the pockets of corporate polluters by gutting protections for our environment," said the liberal Center for American Progress.
But one prominent business group was full of praise for the president's proposal.
"It could help us reclaim our rightful place as a global leader on true 21st-century infrastructure," said Jay Timmons, head of the National Association of Manufacturers.
What next?
The administration has called this proposal a starting point for negotiations.
But Mr Trump has made it a legislative priority this year, as November's mid-term congressional elections loom.
The president met state and local officials on Monday, including the governors of Wisconsin, Louisiana, Virginia and Maine.
He will try to sell the proposal to congressional leaders on Wednesday.