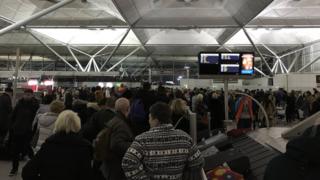 Power has been restored to thousands of homes after a day of heavy snow caused disruption in some parts of the UK.
Scottish and Southern Electricity Networks said 19,000 homes had power restored and only 200 remained cut off. Western Power Distribution said 695 properties were still without power.
Meanwhile, up to 300 passengers were waiting to rebook flights at Stansted Airport, following cancellations.
A yellow weather warning for ice remains in place for most of the UK.
The Met Office warned that injuries from falls on icy surfaces were possible on Thursday morning.
BBC Weather's Ben Rich said Thursday will start with a risk of ice with some wintry showers in northern and western areas.
Freezing fog will develop across parts of Northern Ireland, he said, but many parts of the UK will have sunshine.
A Stansted Airport spokesman said on Wednesday night: "Due to adverse weather conditions today a number of flights were cancelled.
"There are up to 300 passengers in the terminal waiting to rebook flights."
He said that passengers who were unable to return home were given beds and blankets.
"All passengers due to travel are advised to check the status of their flights with their airline before travelling to the airport," he said.
Luton Airport said it was open but flights remained subject to delay and cancellation because of freezing temperatures.