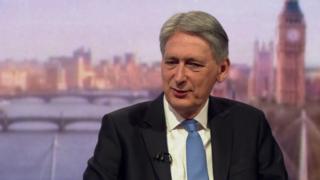 Chancellor Philip Hammond has rejected calls to announce the end of austerity in his spring statement on Tuesday.
He is expected to unveil the smallest budget deficit since 2002, thanks to better than expected public finances.
But he said the UK's national debt was still too high and there would be no easing of spending restrictions.
"There is light at the end of the tunnel," he told the BBC's Andrew Marr Show, but he added: "We are still in the tunnel at the moment."
Labour has called on Mr Hammond to end the "pain and misery" of public spending cuts in his spring statement.
But Mr Hammond said: "If there is the flexibility and the space to do something, then we will decide in the autumn how we are going to use that."
The chancellor is due to announce a half-yearly update of Britain's public finance figures on Tuesday. He confirmed on Sunday that he would not be delivering any new tax or spending measures.