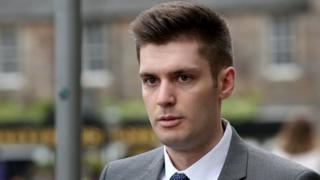 A woman who is suing a man cleared of raping her has told a court she thought she was "going to die".
The 23-year-old, who cannot be named for legal reasons, said she had suffered panics and flashbacks since the alleged incident in Fife in 2013.
She began a legal action in the civil courts after the criminal case against Stephen Coxen was found not proven.
Mr Coxen, 23, from Bury in Greater Manchester, had denied the rape charge.
In her latest evidence, the woman was questioned by her lawyer about an earlier statement in which she said she "thought that was it".
She told the Personal Injury Court in Edinburgh: "I didn't know how it was going to end, I suppose. I was just so afraid, I didn't know what was going to happen next."
Pressed to explain what she had meant by the phrase, she replied: "I thought I was going to die."
She listed a variety of drugs she said she has been prescribed since the alleged incident during Freshers Week at St Andrews University.
'Clearly distressed'
She also said she had become reclusive, and that her friends became concerned about her drinking.
Previously she had told the hearing she woke up to find a stranger having sex with her after a night of heavy drinking.
Stephen O'Rourke QC – representing Mr Coxen, who contests the action – asked whether she might have "overstated" the amount of alcohol she had consumed.
She replied: "I disagree with that."
She also rejected a suggestion that she and Mr Coxen had consensual sex.
The woman said she would not have been upset or alarmed if that were the case.
"Clearly, from my evidence, I was very distressed," she said.
The case continues.